"Jam On It" is so dense with groove, creative production, and lyrical panache, traditional pop song length can't contain it. Regardless, the song never feels a moment too long. Its deliberate, delicate keyboard plinks evoke the New Romantic movement, while predicting future acts like Santigold, Outkast, and Bruno Mars.
Wikki Wikki
Rainfall and laughter. Ominous synths. Schoolyard taunts. A bass drum bounces like a freshly-pumped basketball. Pitch-shifted vocals mimic a scratching record.
Welcome to the world of Newcleus. A Brooklyn-born hip-hop collective, they came on like a lean electro cousin of P-Funk. Newcleus' 1984 track "Jam On It" is ubiquitous, appearing everywhere from Beat Street to Dance Dance Revolution.
Myth Making
Similar to George Clinton's merry music-makers, Newcleus was big on myth building. To illustrate, the group's 1984 album Jam on Revenge even opens with an origin story about "a band of musicians from a far-off galaxy, a place where music and dancing are against all cosmic and computer law."
Concerning such rulemaking, let's recall that during the '80s Footloose-era, the struggle against dancing was very real. With this in mind, Newcleus gave us the power of the beat to fight back against parental oppression. Album opener "Computer Age" kicks in a near-symphonic ensemble of panned synths and robotic vocals. On the whole, the album is a reminder to rage against the machine in the name of hip-hop.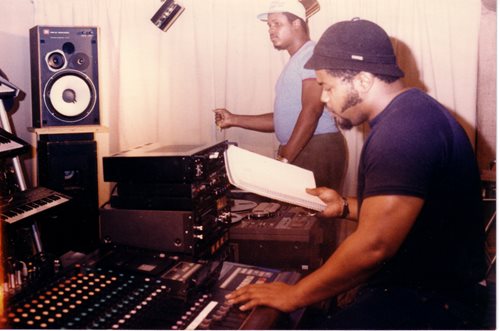 How It's Done
Despite an abundance of killer tracks, "Jam On It" is the tune that steals the show. Following the classic structure established by Sugar Hill Gang, "Jam On It" even references Superman ala "Rapper's Delight."
On the subject of vintage hip-hop vibes, what about those percussive sounds? The cutting claps and pitched cowbell so perfectly suited for a breakdown? Pure TR-808.
As a matter of fact, Roland powered the whole "Jam On It" production. In addition to the 808, Cozmo D used a TB-303 for the sequencing and the RS-09 for chords. Around five minutes in, the beat gets vicious and the bass line pushes even harder against the 808. Picture kids popping and locking, gathered crowds clapping in time, all because Newcleus traveled the universe for a safe place to share their funk.
Enduring Appeal
So, what is it about "Jam On It" specifically that keeps it fresh? Likewise, why does the song continue to appeal to new generations through games and other outlets? Cozmo D asks himself the same questions.
"I wish I knew," he laughs. "Then I'd bottle it up and sprinkle some on everything I did. It probably has a lot to do with the fact that it was probably the most natural and impulsive track I've ever made."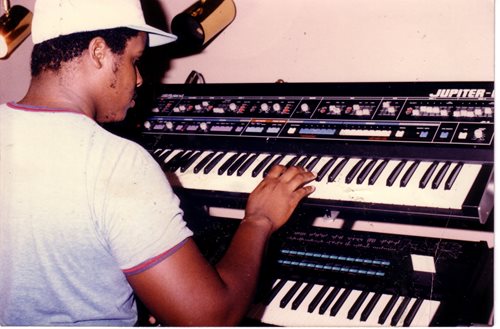 He goes on to detail the effortless experience of creating the song.
"I came up with every aspect of the track and arrangement in about 45 minutes, and I am usually very slow. The track just drips with spontaneity and funky authenticity. Whatever it is, it's been a blessing for a long, long time."
Certainly, "Jam On It" is a blessing—for Cozmo and hip-hop fans everywhere.
Find this "Jam On It" pattern poster and the rest of Rob Ricketts' colorful, collectible "Program Your 808" designs at his online store.