---
Lean on Me and Lovely Day singer dies of heart complications, according to a family statement
Bill Withers, the influential US soul singer who wrote Lean on Me, Ain't No Sunshine and Lovely Day has died aged 81 of heart complications, according to a statement from his family.
Withers wrote and recorded several other major hits including Use Me and Just the Two of Us, before retiring in the mid-1980s and staying out of the public eye.
He is survived by his wife Marcia Johnson and their two children, Todd and Kori. The family statement reads:
We are devastated by the loss of our beloved, devoted husband and father. A solitary man with a heart driven to connect to the world at large, with his poetry and music, he spoke honestly to people and connected them to each other. As private a life as he lived close to intimate family and friends, his music forever belongs to the world. In this difficult time, we pray his music offers comfort and entertainment as fans hold tight to loved ones.
Lin-Manuel Miranda was among those paying tribute, writing: "Rest In Peace, maestro Bill Withers. What a legacy." Chance the Rapper said Withers "was really the greatest", while Chic's Nile Rodgers described him as "class, class and more class".
Withers' songs are some of the most beloved in the American songbook. Ain't No Sunshine is regarded as one of the all-time great breakup tracks, while Lean on Me, an ode to the supportive power of friendship, was performed at the inaugurations of presidents Barack Obama and Bill Clinton. Heavily influenced by the church hymns and gospel music of his childhood, it was his first and only No 1 single on the US Billboard pop charts, in 1972.
It has also become an anthem during the coronavirus outbreak, sung by schoolchildren and in impromptu balcony renditions to show support for one another. Donald Trump's daughter Ivanka wrote on Twitter: "There is no more appropriate time to reflect on his words than now as we lean on each other."
Just the Two of Us, another song of solidarity, was successfully covered by Will Smith and sampled by Eminem (as well as being spoofed by Bill Cosby and Mike Myers).
The joyous Lovely Day, with its signature 18-second-long held note, was his only UK Top 10 hit, reaching No 7 in 1977 and No 4 in 1988. Withers also won three Grammy awards from nine nominations and entered the Rock and Roll Hall of Fame in 2015.
Born William Harrison Withers Jr in 1938, he faced a difficult childhood in Slab Fork, West Virginia. A stutter held him back from making friends, and, after his father died when Bill was 13, his grandmother helped to raise him. Withers would write a tribute to her with the song Grandma's Hands from his 1971 debut album Just As I Am: "Grandma's hands / Used to issue out a warning / She'd say, 'Billy don't you run so fast / Might fall on a piece of glass / Might be snakes there in that grass.'" The intro was memorably sampled by Blackstreet for their 1996 R&B classic, No Diggity.
Withers spent nine years in the US Navy before pursuing a career in music. After moving to Los Angeles in 1967, he found a job making toilet seats and recorded demos through the night. Possessed of a smooth and soulful baritone, he signed to Sussex Records and enlisted Booker T Jones to produce Just As I Am. That album spawned the hit Ain't No Sunshine, which won Withers his first Grammy for best R&B song.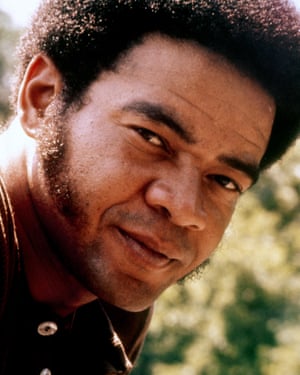 A fulfilled musician and human being … Bill Withers in 1971. Photograph: GAB Archives/Redferns
He then poured his experiences of growing up in Slab Fork, a tough coal-mining town with a strong community ethos, into Lean on Me.
His time with Sussex Records didn't end well. "They weren't paying me," he told Rolling Stone in 2015. "They looked at me and said, 'So, I owe you some money, so what?' I was socialised in the military. When some guy is smushing my face down, it doesn't go down well." He claims to have erased an entire album that he had recorded for the label in a fit of pique. "I could probably have handled that differently," he said.
Withers signed with Columbia Records and married his second wife, Marcia Johnson, shortly afterwards, in 1976; she eventually became his manager. Withers continued having hit records with Columbia, including the laid-back and optimistic Lovely Day. After three albums in three years, Withers claimed Columbia's head of A&R, Mickey Eichner, prevented him from going into the studio, leaving a gap of seven years between 'Bout Love (1978) and Watching You Watching Me (1985).
After the latter failed to chart, Withers went into early retirement. The 2009 documentary, Still Bill, explored his reasons for quitting the music industry and painted the picture of a fulfilled musician and human being. Writing in the Chicago Sun-Times, film critic Roger Ebert said: "[Withers] still lives and survives as a happy man. Still Bill is about a man who topped the charts, walked away from it all in 1985 and is pleased that he did."
Bill Withers: his 10 greatest songs, from Lovely Day to Lean on Me
Withers negotiates heartbreak, history, Harlem and more across his high-quality discography – here are the brightest moments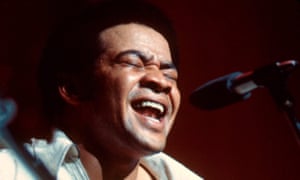 Bill Withers performing at Hammersmith Odeon, London, November 1972. Photograph: Michael Putland/Getty Images
Ain't No Sunshine (Just As I Am, 1971)
Questlove called Bill Withers "the last African-American Everyman … the closest thing black people have to a Bruce Springsteen". Sure enough, on the cover of his debut album, the smiling 31-year-old singer-songwriter is holding his lunchbox in the doorway of his day job at a factory making parts for passenger jets. Featuring Booker T & the MGs and Stephen Stills, Withers' blend of soul and folk wasn't exactly DIY but its charm lay in its downhome simplicity. He wrote his concise, perfect breakout hit after watching Jack Lemmon and Lee Remick as codependent alcoholics in Days of Wine and Roses. "Sometimes you miss things that weren't particularly good for you," he explained. His looping "I know"s express emotional stasis while Booker T's salving string arrangement lets in the light.
Grandma's Hands (Just As I Am, 1971)
Withers' earthy, unpretentious reputation was established from the get-go by this two-minute ode to his late grandmother, Lula – a modest masterclass in songwriting. This two-minute biography of a black woman, born shortly after the civil war, who met hardship with love, is told through a single image: the hands that clap in church and play the tambourine are the same ones that steer young Bill from danger and gather him up when he falls. The final line – "If I get to heaven I'll look for grandma's hands" – feels especially poignant right now. Withers' hummed intro was memorably sampled on Blackstreet's somewhat less homespun No Diggity.
Harlem (Just As I Am, 1971)
I almost chose the extraordinary, hold-your-breath heartbreak of Hope She'll Be Happier but that's in the same emotional zone as Ain't No Sunshine. Harlem, his debut single and Just As I Am's opening track, shows another side to Withers: a gritty ghetto panorama in the vein of Bobby Womack's Across 110th Street and Stevie Wonder's Living for the City. The narrator has to negotiate callous landlords, crooked preachers and broken radiators, but Withers, typically, seeks a silver lining. Come Saturday night, he can still go out and party and "everything's all right". Even in hard times, he celebrates community and joy.
Use Me (Still Bill, 1972)
Self-produced and recorded with members of the Watts 103rd Street Rhythm Band, Withers' second album is a much more physical record than his debut, with lyrics to match: two of the highlights are potent tales of sexual obsession. The paranoid suspense of Who Is He (And What Is He to You)? is his equivalent of I Heard It Through the Grapevine (with the implied twist that it may all be in his head) while the watchful groove of Use Me underpins a masochistic defence of a selfish, snobbish lover in defiance of well-meaning advice: "If it feels this good getting used / Oh, you just keep on using me until you use me up." A very long way from Grandma's Hands, it was later covered by Grace Jones.
Lean on Me (Still Bill, 1972)
Withers' only US No 1 belongs to the same school of early 70s brow-soothers as Bridge Over Troubled Water and You've Got a Friend but cuts the gospel richness with doses of handclapping funk. Lean on Me was inspired by his hardscrabble childhood in the mining town of Slab Fork, West Virginia, where neighbours looked out for each other. As he once explained: "That kind of circumstance would be more accessible to me than it would be to a guy living in New York, where people step over you if you're passed out on the sidewalk, or Los Angeles, where you could die on the side of the freeway and it would probably be eight days before anyone noticed you were dead." On Still Bill, where it follows the feverish Use Me and Who Is He (And What Is He to You?), Lean On Me's promise of unfailing brotherhood has real weight.
I Can't Write Left-Handed (Bill Withers Live at Carnegie Hall, 1973)
Live at Carnegie Hall belongs in the pantheon of great live albums, not just for the music but for the absurdly charming between-song patter: Withers' smalltown comedy routine prior to Grandma's Hands brings the house down. If half the power of I Can't Write Left-Handed resides in its mesmerising, Fatboy Slim-sampled gospel motif, then the other half comes from Withers' introductory spiel about the Vietnam war ("one big drag") and his conversation with a young veteran who lost his right arm after a bullet to the shoulder. Framed as a letter home that the vet needs Withers' help to write, the song itself is an act of profound empathy and solidarity that says more about the average soldier's experience of war and its aftermath than a dozen more strident protest songs put together. And when Withers flows straight into Lean on Me, it's as if he's carrying the whole country on his shoulders. "I have seen America and all the weird phases it has been through," he said in 2015. "All the cruelty and all the kindness."
The Same Love That Made Me Laugh ('Justments, 1974)
Four years before Marvin Gaye's divorce masterpiece Here, My Dear, Withers' third album chronicled the aftermath of his brief and publicly disastrous marriage to actor Denise Nicholas. Roughly speaking, The Same Love That Made Me Laugh blends the message of Ain't no Sunshine with the sound of Use Me to produce a song as seductive as it is despairing. "I've given all I have to give / And if you don't want me / I don't want to live." You wouldn't want to be in his shoes, but it sounds so good.
It's All Over Now (with Bobby Womack, 1975)
Withers was not a natural rocker but Bobby Womack was a persuasive man who managed to bring together two of the most distinctive voices in 70s soul. Womack wrote the song in 1964 but it was the Rolling Stones who made it famous, and this raucous duet coaxes a raw Stones-y energy out of a singer who usually operated in a more laidback mode. The way they throw lines back and forth in the chorus sounds like the recording was a heap of fun, at a time when Withers really needed some.
Lovely Day (Menagerie, 1977)
Withers considered his four-album run with Columbia Records pretty much a washout, accusing label executives of being crass, tin-eared and racist, but it did yield one of the most joyful songs ever recorded. The simple message is Lean on Me in reverse – this time it was Withers who needs his spirits lifted – and every note glows, thanks to producer Clarence McDonald and co-writer Skip Scarborough. "The way Skip was, every day was just a lovely day," Withers testified. Lovely Day isn't exactly disco but it offers its own version of dancefloor transcendence, from the chatty burble of the bassline to the "daaaaaay" towards the end, which Withers sustains for a record-breaking 18 seconds in a rare instance of vocal showboating. It is impossible to hear this song without feeling better.
Just the Two of Us (with Grover Washington Jr, 1980)
Withers' only album of the 1980s, Watching You Watching Me, was his last before he retired at the age of 47, but before that he scored a Grammy-winning No 2 hit with a collaboration famous enough to be sampled or parodied by Will Smith, Eminem and Dr Evil. Withers' companionable warmth gels beautifully with Grover Washington Jr's saxophone and the very 80s silk-sheet production, although I can't help wondering what a stripped-down solo version might have sounded like. Withers called it "a 'kiss my ass' song to Columbia". After that final painful album in 1985, he was done with the music industry and he never went back. "This business came to me in my thirties," he said a few years ago. "I was socialised as a regular guy."
---